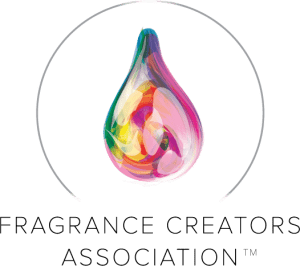 FCA Celebrates Impact, Signals Future at 2018 Annual Meeting
ARLINGTON, VA, November 16, 2018 – A Press Release from the Fragrance Creators Association
FOR IMMEDIATE RELEASE November 16, 2018


Fragrance Creators Association Celebrates Impact, Signals Future at 2018 Annual Meeting
'Perfume for the People' underscored the association's unique value, growth, and high-impact results
ARLINGTON, Virginia – Fragrance Creators Association gathered members and industry leaders for a day of learning, networking, and renewing its commitment to promoting and protecting fragrance's ability to enhance lives at its 2018 Annual Meeting, held November 13 in Weehawken, New Jersey. The program, billed as "Perfume for the People," engaged and educated attendees about how the industry's policies must be rooted in the important moments and benefits that fragrance brings to everyday life.
In dynamic sessions led by thought leaders, including Dan Renberg of Arent Fox, LLC, Shannon Coombs of the Canadian Consumer Specialty Products Association, Darby Pearson and Eric Moorhead of Spectrum Science, and Maryellen Molyneaux of the Natural Marketing Institute, attendees gleaned key takeaways on the current and future political landscape, strategy for translating technical fragrance science to diverse audiences, and consumer data on fragrance-related trends across a multitude of product categories.
Robert Weinstein, Ph.D., President & CEO of Robertet USA and Fragrance Creators Board Chairman
2018: A Year of IMPACT
"This year, Fragrance Creators demonstrated our ability to not only adapt but thrive in our changing times," noted Robert Weinstein, Ph.D., President & CEO of Robertet USA, during the Chairman's Address. "We have used our unique position in the value chain to serve as the common ground on fragrance-related issues that affect our allied customer trades. This has resulted in better coordination and strategic thinking in the area of fragrance policy."
Farah K. Ahmed, President & CEO, Fragrance Creators

In her annual report, Fragrance Creators President & CEO Farah K. Ahmed presented the association's top results for the year and demonstrated how Fragrance Creators is generating influence through its commitment to listening and collaborating. "To be successful, trade associations need to think and act like the obsessed entrepreneur-be doers, not just planners and dreamers- always learning and searching for change, responding to it, and applying it as opportunity," said Ahmed. "And it is our duty to demonstrate Fragrance Creators' direct ROI to our membership." Each of the achievements emphasized how Fragrance Creators is delivering meaningful and measurable value; preventing unnecessary costs; and generating excitement, education, and appreciation for fragrance and the industry.
Ahmed also thanked Fragrance Creators' active and engaged membership, which helped make these results possible, and looked forward to 2019 and beyond.
Left to right: Amanda Nguyen of Fragrance Creators; Cynthia Reichard of Arylessence; Taiwo Koyejo and Lia Dangelico of Fragrance Creators;
Tracey Long of P&G; Jaime Krayger and Luciana Castro of Firmenich;
Women Leading Fragrance Advocacy, Regulatory Science & Communication
In a lively panel discussion, Fragrance Creators staff and committee leadership provided an insightful update on key priority issues, including trade and tariff, cosmetics reform, fragrance ingredient communication, VOCs, and more. The panel included:
Government & Legislative Affairs Executive Committee
Chair: Cynthia Reichard, Arlyessence
Amanda Nguyen, Director, Government Affairs & Legal
Regulatory Science Executive Committee
Chair: Luciana Castro, Firmenich
Taiwo Koyejo, Chief Regulatory Scientist
Communications Executive & Branding Executive Committees
Chair: Tracey Long, Procter & Gamble
Chair: Jaime Krayger, Firmenich Lia Dangelico, Director, Communications
From The Fragrance Conservatory design prototype
2019: A Year for the Public
Fragrance Creators has expanded its program offerings to include the Importance & Benefits Committee (IBC), which is compiling information-studies, stories, and examples-on the importance and benefits of fragrance that will be shared with the public in the coming year. Also in 2019, the association is on track to launch The Fragrance Conservatory, a dynamic website aimed at providing millennials, parents of young children, and all people with clear, engaging, and relatable facts and 360-stories on fragrance and fragrance ingredients.

"We know fragrance has the ability to uplift our spirits and bring long-lost memories to life, but it is also being researched to uncover potential medical benefits for individuals with Alzheimer's, autism, and other medical conditions," said Ahmed. "We will be sharing all of this information with the public. We're going to put it all out there because we know it will grow people's understanding, love, and confidence in fragrance."

2019 Board of Directors Announced

Fragrance Creators 2019 Board of Directors Slate and Officers were also presented during the meeting. For 2019, Robert Weinstein, Ph.D., of Robertet USA will remain Chairman; Paul Ireland of Takasago will become Vice Chair, Karen Manheimer of Kerry will remain Treasurer; and Ken McAlister of Intarome will become Secretary. The 2019 Board of Directors represents a diverse group of Fragrance Creators' membership:

• Miguel Alemañy, Procter & Gamble
• Joy Atkinson, Firmenich, Inc.
• Al Bauer, Citrus and Allied Essences Ltd.
• Robert Bedoukian, Ph.D., Bedoukian Research, Inc.
• Shawn Blythe, International Flavors & Fragrances Inc.
• Rob Brown, The Lebermuth Company, Inc.
• Kelli Heinz, Bell Flavors & Fragrances, Inc.
• Paul Hogan, Emerald Kalama Chemical, LLC
• Paul Ireland, Takasago International Corporation (USA)
• Erica Lermond, The Lermond Company, LLC
Michel Mane, MANE USA
Karen Manheimer, Kerry
• Ken McAlister, Intarome Fragrance Corporation
• Andy O'Shea, Berjé, Incorporated
Veronique Scailteur, Chanel
• Steve Tanner, Arylessence, Inc.
John Trombley, Givaudan Fragrances Corporation
• Robert Weinstein, Ph.D., Robertet USA
Robert Weinstein, Ph.D., of Robertet USA and Fragrance Creators Board Chairman; John Carey of Firmenich and recipient of the 2018 Rising Leader Award; and Farah K. Ahmed of Fragrance Creators
Inaugural 2018 Rising Leader Award
Fragrance Creators presented John Carey, Senior Manager, Global Regulatory Services at Firmenich, with its inaugural Rising Leader Award. Carey is a passionate and unwavering supporter of the association's strategic efforts to drive the fragrance industry forward, especially through his contributions on key issues as part of the Government & Legal Affairs and Regulatory Science Executive Committees. Introduced by the Board of Directors in 2018, the annual Rising Leader Award acknowledges emerging industry professionals who have shown a commitment to Fragrance Creators and the fragrance industry at-large. In recognizing Carey, the association will also make a $2,000 donation on his behalf to the ALS Association Connecticut Chapter.

Thank you to Fragrance Creators 2018 Annual Meeting sponsors: Arylessence, Bedoukian Research, Bell Flavors & Fragrances, Berjé, Chanel, Citrus & Allied Essences, Firmenich, Flavor & Fragrance Specialties, Givaudan, International Flavors & Fragrances, MANE, Modere, Procter & Gamble, Robertet, SC Johnson, Spectrum Science, and Takasago International Corporation (USA)
See this release on Fragrance Creators' website.
Fragrance Creators Association is the principal trade association representing the U.S. fragrance industry. The organization's member companies create and manufacture fragrances and scents for home care, personal care, home design, fine fragrance, and industrial and institutional products. Fragrance Creators also represents companies that market finished products containing fragrance as well as those that supply fragrance ingredients, including natural extracts and other raw materials that are used in perfumery and fragrance mixtures. Fragrance Creators produces Fragrance Notes, the quarterly publication of record for the fragrance industry, available in print and online at fragrancenotes.org. Learn more about Fragrance Creators at
fragrancecreators.org.
CONTACT:
Lia Dangelico
Idangelico@fragrancecreators.org
571-317-1504