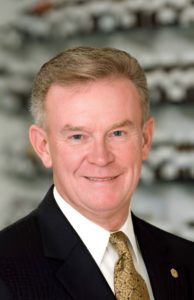 Arylessence CEO Steve Tanner Receives 2022 ACI Distinguished Service Award
Steve Tanner is the 2022 recipient of the American Cleaning Institute's (ACI) Elva Walker Spillane Distinguished Service Award, in recognition of his exceptional contributions to the cleaning product supply chain and to ACI.
Mr. Tanner is currently Chairman, President and Chief Executive Officer of Arylessence, Inc. As a business leader, Steve has always encouraged close working partnerships among major consumer product companies, manufacturers, ingredient suppliers, and the fragrance industry to address regulatory, governmental, and consumer concerns. An industry voice for quality, safety and the sustainability of fragrance ingredients, Steve promotes responsible fragrance research, design and manufacture.
Steve has served on the ACI Board of Directors since 2010, bringing keen insights from the fragrance industry and as a small business entrepreneur to ensure a wide range of impacts are considered within ACI, which serves as the voice of the cleaning product supply chain.
Steve also serves as the Chair of the Board Nominating Committee, the Board's liaison for ACI's Political Action Committee, and has been a major contributor to the deliberations of several ACI expert standing committees.
"Steve Tanner is a pillar within the fragrance industry and the cleaning product supply chain at-large," said Melissa Hockstad, ACI President & CEO. "Smart, common sense, practical. All of these words capture what Steve brings to the table within ACI to help ensure we are addressing the needs of the broader value chain which we represent."
ACI's Distinguished Service Award is named in honor of the late Elva Walker Spillane, the former National Purity LLC chief executive who served on the association's Board for 20 years.
The award, handed out at the 2022 ACI Industry Convention, honors an individual for extensive or exceptional service to ACI, who promoted the growth and interests of the Institute and the industries it represents, and who exercised outstanding leadership within ACI.
---
The American Cleaning Institute® (ACI – www.cleaninginstitute.org) is the Home of the U.S. Cleaning Products Industry® and represents the $60 billion U.S. cleaning product supply chain. ACI members include the manufacturers and formulators of soaps, detergents, and general cleaning products used in household, commercial, industrial and institutional settings; companies that supply ingredients and finished packaging for these products; and chemical distributors. ACI serves the growth and innovation of the U.S. cleaning products industry by advancing the health and quality of life of people and protecting our planet. ACI achieves this through a continuous commitment to sound science and being a credible voice for the cleaning products industry.