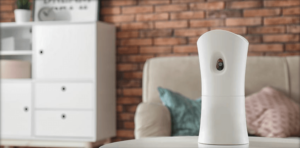 Air Care: How Scent & Strategy Combine to Expand Category Growth
August 30, 2019 by Broc D. Martin, Senior Market Research & Insights Manager, Arylessence, Inc.
Online link to this article is here.

For consumer air care, it can be an unfortunate misstep for brands to simply address odor masking and general coverage needs. In doing so, this elementary product function satisfies only today's most obvious and bare minimum consumer expectation. Instead, for air freshener brands and products to truly be successful, they need to look beyond the basics to amplify the value proposition, aligning more strategically with changing consumer needs and attitudes both around scent delivery systems and character profiles.
Looking ahead for 2020 and beyond, expect to see fragrance fueling the air care category in four essential areas: malodor control, wellness positioning, limited editions, and vehicle care. Each pivotal platform sets the stage for exciting and unique fragrance development opportun­ities.
Malodor Control
No doubt the most influential factor powering air freshener usage extends from consumers' primary concern: Controlling malodors. Beyond immediate coverage, fragrance formulations and delivery systems are evolving to provide consumers with more choice around eliminating odors, fragrance longevity and expanded usage. Each of these components ladders up to the overarching future state of malodor control, with odor elimination technology as the aspired pinnacle.
"We've seen a range of technology claims in market," says Abby Haywood, scientist, applied technology at Arylessence, "most likely the result of historical powerhouse brands. Consumers are shifting their expectation towards products that 'do something' versus simply masking odors temporarily. In this way, brands that leverage data-driven malodor control set a higher standard for the market, as well as coveted differen­tiation. We're also starting to see an emergence of active naturals that could provide a unique approach in this space."
Jennie Holub, vice president of marketing at Arylessence, agrees. "Growing interest in odor elimination is an obvious consumer expectation, given that the general value-add proposition demands that products across categories 'level up' their benefit story to keep pace with consumer wants and needs. Research from global market intelligence agency Mintela shows that 'odor elimination' as a product position is fueling increased air freshener usage and is especially critical for both parents and pet owners – two primary demographics brands should be targeting. Busy lifestyles and elevated interest in exercise and staying active are also contributing to the broader odor elimination story, laying the groundwork for expanded opportunities overall."